TONI HOLT KRAMER
"Philanthropy in Palm Beach"
From the West Coast to Washington
By: Toni Holt Kramer
---
| | |
| --- | --- |
| Hello everybody. Here I am in Palm Beach, Florida. You know what the definition of Palm Beach is, don't you? Philanthropy with a capital "P." There are more charity galas and events here a year in season than there used to be stars at Metro-Goldwyn-Mayer. | |
---
This season kicked off on December 4th with the 17th annual LIFE Foundation's Gala, titled "The Lady in Red," benefiting Disabled War Veterans. The monies raised from this event go to establishing a monument in Washington, DC for these veterans disabled for life. Long the dream of Palm Beach's beautiful society stalwart, Lois Pope, the idea for this charity was born years ago when she sang professionally on Broadway. One day while Lois was entertaining at a Veterans' Hospital in New York City, she was in the midst of singing "Hold My Hand" to a wounded vet only to look down and discover he had no arms. She never missed a beat. She just gave him a big hug and kept right on singing, but at that moment, she decided if she could ever afford to assist these brave veterans, she would. And she has done just that! This year's gala was held at Donald Trump's Mar-a-Lago. The "Donald" himself was on hand to share in the festivities, as were major players in Palm Beach society.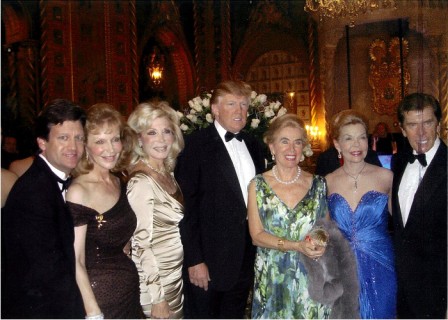 Mrs. Pope is the widow of the former owner of the National Enquirer, Generoso Pope. Not only does Lois give her time to this particular organization, but to so many, many others. She lives to give!
A brief review of some of the more notable events that have taken place this season includes the American Cancer Society's gala in Palm Beach chaired by the incredible and ever-giving Patrick Park and Nathalie Fernandez (he underwrites almost everything). They also hosted the annual kickoff cocktail gathering at Mar-a-Lago. The International Society of Palm Beach's "A Night in Venice" quickly followed. We attended with good friends Joe and Terry Ebert Mendozza and Lois Pope.
Kudos to chairwoman Hermé de Wyman Miro who was honored at a gala titled "Shangri-La" benefiting the Israel Cancer Society USA.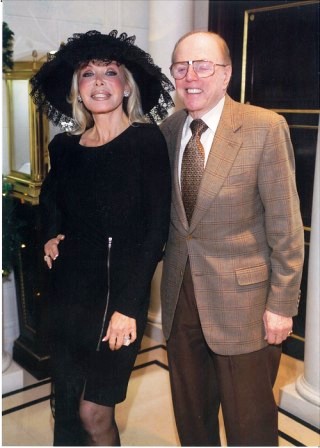 The Heart Ball was a most elegant mother and son night at Mar-a-Lago, chaired by Lois Pope and co-chaired by Paul Pope, the author of the smash new book "Deeds of Our Fathers" which is already being talked about for a movie.
And finally there was the Palm Beach Zoo's "Year of the Tiger" dinner dance which was corporately sponsored by the world renowned Graff Diamonds. Gee, how nifty is that seeing a diamond necklace on a beautiful big tigress? I'm auditioning -- just watch me purrrrrrr!