---
V
alley Village Dental is a family-oriented practice where the doctors spend personal time to create relationships with their patients and provide extraordinary dental services. Drs. Michelle and James Grosleib are highly trained in general and cosmetic dentistry. Sincere, caring, warm and approachable, they are both concerned with patient comfort and well-being. They love to "chat" with their patients and learn about their lives. They believe every patient has something interesting to share and that interaction with their patients is priceless.
The doctors are both committed to the legacy of outstanding dentistry. Husband and wife, they recently celebrated their 15th anniversary together, and 8th year of marriage. Their personal history is as unique as the services they offer. Raised in Southern California, the doctors attended high school, college and dental school together and then opened their own practice. They graduated from UCSF School of Dentistry at the top of their class with numerous national and international awards and inductions for their clinical accomplishments (Omicron Kappa Upsilon National Dental Honor Society, International College of Dentists, Teledyne-Waterpik Award in Prosthodontics for Outstanding Achievement, American Academy of Esthetic Dentistry Award of Merit, Willard C Fleming Award for Outstanding Service to Patients, Fleming Award in Patient Welfare for Outstanding Achievement).They continue to attend classes, seminars and conferences in an effort to stay up-to-date in dental technique and technology.


These two conservative, preventive dentists have implemented state-of-the-art dental technology into their practice. They offer low-radiation, digital X-rays and provide each patient with an intraoral photography tour of their mouth, viewed on a large television screen. The practice offers the highest quality cosmetic and restorative dentistry, including root canals, crowns and bridges, fillings, dentures, extractions, teeth whitening, and periodontal disease control and treatment. They are also proud to offer ClearCorrect clear braces.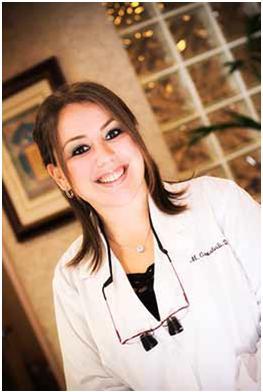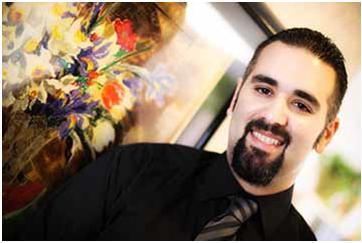 The main goal of the practice is to be sure that each patient leaves knowing what the problem is, what it looks like, what can be done to fix it, and how to prevent it in the future. Additionally, the Doctors and their staff pride themselves on showing respect for each patient's time, and are sure to educate patients on how to prevent oral disease. They make it a point to include patients in the decision-making process regarding their dental care. The doctors are also understanding and compassionate regarding patients that demonstrate dental anxiety.


Drs. Grosleib have a 3-year old daughter, and are expecting their second child. Their goal and priority is to help patients establish protocols in their own homes that will emphasize healthy nutrition, proper oral hygiene, and strong overall health for the entire family. Along these lines, for years, the doctors were involved in Give-Kids-a-Smile, a program that travels to schools to screen children for oral disease and educate the students on proper oral hygiene. One of their wishes is to be able to be more involved in neighboring communities by establishing similar programs in local schools.


The doctors have a history of helping giving back to the community. During their time in Northern California, the couple prided themselves with the time spent providing care to the underserved. They spent 6 weeks in Eureka in a community clinic providing dental treatments to children, adolescents, adults and medically compromised patients. They also spent months in the Oral Surgery department at San Francisco General Hospital providing oral surgery services to the poor and the medically compromised. However, it is the time they spent providing free dental care to the homeless in the Community Dental Clinic in San Francisco for nearly 4 years of which they are most proud.
Their hope is that with time and financial flexibility, they will be able to spend time establishing and developing similar programs in local areas. For the time being, they do what they can to volunteer their services where needed, and to provide pro-bono work when possible.
---
"I love to get to know my patients, and chat about their lives. My motherly instincts bring out the most compassionate and caring part of me, which allows me to be accommodating, understanding and supportive to anxious adults and children. I am proud and honored to have the trust and confidence from my patients. I never take for granted how difficult it is for some to allow themselves to relax in the dental chair. I feel empowered and fulfilled when my most anxious patients leave with a smile and give me the thumbs up!


Dentistry includes everything that I love about life: taking care of others, cutting edge medicine, creativity and hands-on treatment, and meeting fascinating people. I thrive to be the best and most approachable dentist I can be. I believe that the treatment planning session is a two-way street; and therefore am sure to educate and include my patients in the decision making process."
- Dr. Michelle Grosleib



"The art of dentistry allows the practitioner to practice dentistry on a daily basis, never ceasing to find new and innovative methods available to patients. I always strive to make the dental services we provide for our patients the very best available, and am sure to simplify the concepts.



I love being able to sit down and chat with my patients, learning about their families, their life experiences and sharing with them my own. I know that each patient has something interesting about them that I can learn. Practicing dentistry and completing treatment is a given, but the interaction with each patient is priceless.



The best part of my profession is the gratitude I get when helping someone in need. Being able to find what was wrong, fixing it and allowing them to go on with their life without any disruption is rewarding."
- Dr. James Grosleib
---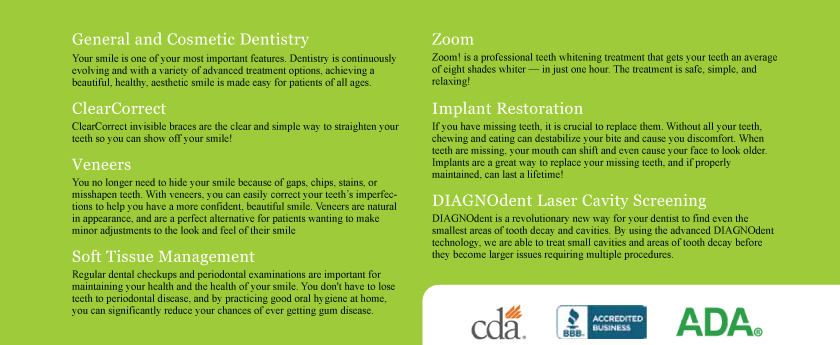 For more information, please check out there website HERE.
---