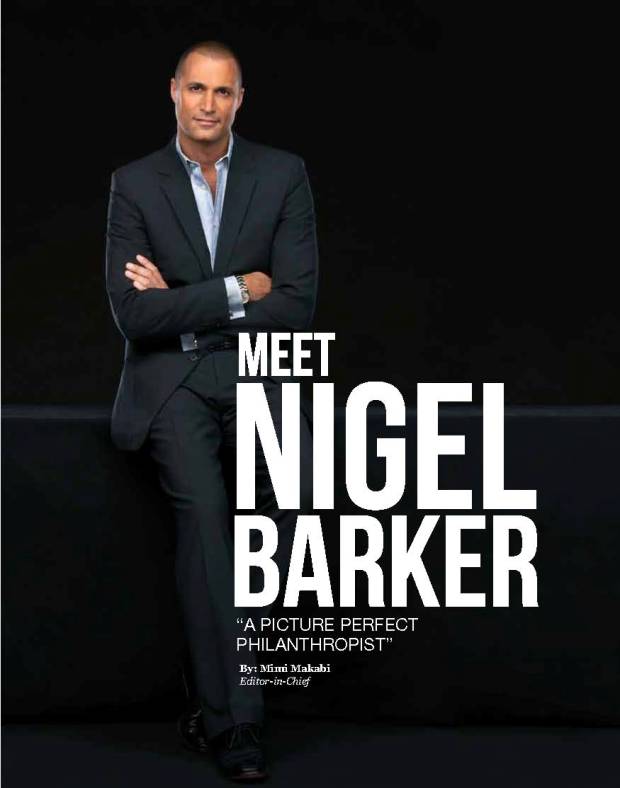 When you first see Nigel Barker, you instantly become smitten by his debonair good looks that exude strength and confidence. Voted one of Reality TV's Sexiest Men, it is no surprise that for the past twenty years, this London native has been taking the worlds of fashion, beauty and entertainment by storm. He is no stranger in front of the lens and behind it. His introduction to the fashion industry in the mid 1980s, on The Clothes Show, a televised model search in England, launched his successful modeling career. He worked all over the world for fashion giants such as Giorgio Armani, Valentino, Gaultier, Kenzo, Donna Karan and Ralph Lauren.

After a decade in front of the camera, Barker followed his dream to become a photographer and moved to the other side of the lens. By 1996, Barker had launched his own photo studio, Studio NB, in Manhattan's fashionable Meat Packing District.
Today, when you mention Nigel Barker, many initially recognize him as the noted fashion photographer and judge on the Tyra Banks hit show, America's Next Top Model, now in its 16th cycle, aired in more than 146 countries and watched by more than 100 million people per week.
Barker's presence in the fashion, beauty and entertainment industries has resulted in an array of exciting projects including films, commercials, spokesperson roles, his first book, Nigel Barker's Beauty Equation: Revealing a Better and More Beautiful You, photographic exhibitions, international editorial assignments and the creation of his own show, The Shot on VH1.
However, the role he is most regarded for is as a first-class humanitarian. Through the years, Barker's growing commitment for social responsibility has effectively translated his passion for photography into celebrating and inspiring his great commitment to philanthropy. He has used his lens as his voice for endless worthy causes.
Whether he is taking pictures of gorgeous models in exotic locations for a magazine or of frail children battling HIV in Tanzania, Barker's mission is to capture and reveal to the world the beauty that is everywhere and within all of us.
To highlight some of our world's most pressing issues, Barker made his directorial debut with a highly acclaimed documentary which he also produced called, A Sealed Fate? – followed by, Generation Free and Haiti: Hunger and Hope, which partner with respective charities: the Humane Society of the United States, the Elizabeth Glaser Pediatric AIDS Foundation and the Edeyo Foundation. Additionally, Barker is a celebrity ambassador for the Make-A-Wish Foundation, the Do Something organization, campaign shooter for Fashion Targets Breast Cancer and the only male Champion for the United Nations Foundation's Girl Up initiative.
Nigel Barker is making a difference. His devotion to humanity is inspiring to say the least.
---
In his own words…
MM: When you were younger, did you have any idea, any vision, of what you wanted to accomplish—what you wanted to become?
NB: When I was in high school, I was on my way to becoming some sort of a doctor. In England, my parents and my school pushed me in this direction because I had the grades. But truly my heart lay in different places. I always had a huge affection for animals, and as a child I wanted to become a zoologist or a marine biologist like my idols David Attenborough and Jacques Cousteau.

MM: How did your career transition from modeling to photography?
NB: The 90s was the end of the Amazonian era of modeling and I was a big, well-built guy (6 feet 4) that realized how much the modeling business had changed. The androgyny, grunge, heroin chic look was in, and I knew that this was not going to work for me. Instead of giving it all up, I thought of using my years and experience in this business to pursue my passion for photography. Growing up, I always had an artistic bent and always enjoyed photography, but as a hobby. I took pictures of young models along the way. While modeling, I noticed that fashion photographers made a good living and had interesting, unusual lives. I began to think that this would be a fun opportunity for me to pursue. For the next two years I tried hard, and in 1996, I finished modeling and started my own photo studio in New York with my wife.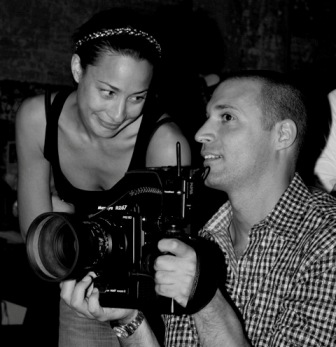 MM: How did you become a judge on Tyra Bank's hit show, America's Next Top Model?
NB: A stylist, Nole Marin, whom I'd worked with for many years, was a judge on America's Next Top Model. A good friend of Jay Manual and Tyra Banks, he brought me in for season two of Top Model. The show was looking for new photographers. One of the producers liked me and put me on film. Four weeks later, I was offered a more permanent role on the show as a judge as well as a photographer.
MM: Through the years, you have traveled all over the world, and are constantly around beauty. Of all the photographs, was there one that truly stood out to you?
NB: One of the very first times that I was really blown away was back in 2003 – 2004 when I did my first shoot for Make A Wish Foundation (MIA). I was asked by MIA to photograph some young girls whose wish was model for a day. The young girls asked if Nigel Barker could shoot them because they had seen me on America's Next Top Model. I felt very honored even though I knew very little about the organization. I remember meeting these young girls who came to the set, but wasn't quite sure what to expect. They all had serious life-threatening conditions and had spent many years in pain, undergoing chemotherapy and various operations. I remember looking at this one girl Nicole Ray Muller. She is in my book, the Beauty Equation, featured under the chapter, "Radiance." An extraordinary young lady, her eye contact was the most amazing thing. She sat in front of me, a frail little thing with her arm very scarred from multiple operations. Most people, celebrities and all, when they look at the camera, think they have a good and bad side, but this young girl put her arm right out to the camera with all the scars on it. She looked me right in the eye with a piercing and haunting look that was filled with strength and courage. It was as though she was saying, 'This is me… this is my best side, this is who I am and this is what made me.' She was only 14 years old.
For me, that moment was the dawning of everything, a sort of spiritual awakening, as far as what beauty was really about. And I've been on the quest for that sort of beauty ever since.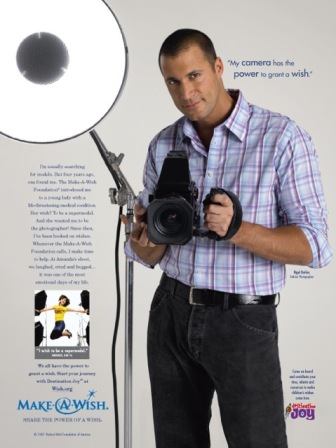 MM: Your book NIGEL BARKER'S BEAUTY EQUATION shares your formula for revealing the inner beauty that is in each of us. So what is beauty and where does it come from?
NB: The Beauty Equation is based my quest to find what truly makes each and every one of us beautiful. Each chapter in my book is an anecdote that sets out to explain the various definitions of inner beauty taken directly from my own experiences. To me, beauty comes from confidence and compassion, motivation, energy, personality, sense of humor, and of course, passion for life. It's some je ne sais quoi…which has all to do with the life you are leading. I love the idea that true beauty is the conquest of fear, not the absence of it.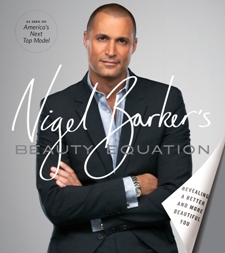 MM: You have also created a website called BeautyEquation.com. Please tell us a little about this.
NB: The site is the ultimate tool to help you get the most out of the book's challenges. You can build your portfolio, post your work and track your progress. You can also connect to other 'BE' users all around the world on any of our three blogs BE One, BE Giving and Dr. Photo.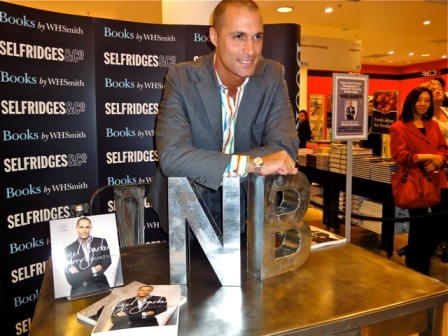 MM: What does "Giving" mean to you and how did your giving nature evolve?
NB: When I think of giving, I often think of times when people have things given to them. We live in a society where it's take, take, take… give me, give me, give me. When I first started having my own children, I realized the power we have to love and to love again which for me was an extraordinary process to go through. With the charity work I have done, the rewards have always been a hundred fold. I remember my first shoot for Make A Wish. The people were thanking me, but I thanked them because, in fact, I felt my wish was being granted - a wish that I didn't even know I had. This was a very special time for me and as a result I changed as a person. To give is often about giving your time and your heart; it doesn't always have to be about only giving your wallet. This is where most people get confused, but we can always give something.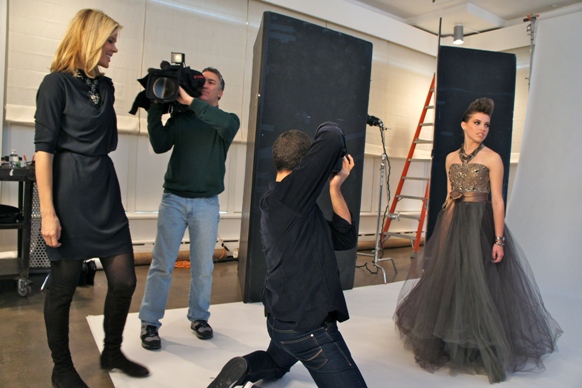 MM: As a celebrity, you've been a spokesperson for numerous charities and have even produced several documentaries and photo exhibitions. Please explain your passion behind your philanthropic work.
NB: When I get involved with an organization, it isn't just to stand on red carpets or to be a part of host committees. It's really to offer them my audience and the platform of America's Top Model which has a weekly viewership of over one hundred million people in 146 countries worldwide. I can be a spokesperson, but also photograph the issue, film the problem, and create both exhibition-quality-photography for their use and to tell their message. I also don't just want to take horrendous pictures that scare you or show the dread. My angle has always been to take a beautiful picture and to give an aspect of hope and humanity.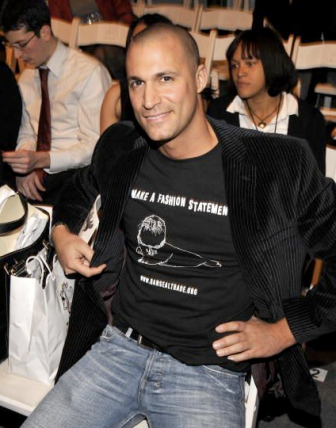 MM: You have been involved with the Edeyo Foundation, the non-profit which aims to rebuild run-down schools in Haiti, to provide students with learning materials and nutritional support and also created a film named "Haiti: Hunger and Hope." Please tell us more about this.
NB: I am currently a board member of the Edeyo Foundation and will soon travel to Haiti to do my second film which will be another 45 minute documentary about the life in Haiti versus the actual devastation of the earthquake. I show the human story- about people trying to survive and their will and hope. The children in Haiti do not have fewer dreams than the children in New York City. They still dream to be dancers, doctors or football players.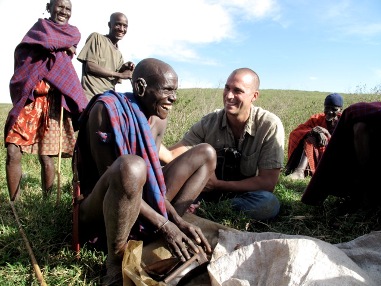 MM: You made the film A Sealed Fate? for the Humane Society to help bring awareness to the brutal hunting of seals. How did this project come about?
NB: The Humane Society first came to me and asked if I would be a spokesperson for the Protect the Seals campaign, and wanted me to take photographs with the seals on ice. Instead, I suggested they take pictures of me photographing the seals which would help motivate people. I loved shooting a documentary about seal hunting, a major issue I have been protesting since I was a boy. I wanted to tell the story because there was a lot of propaganda out there; people saying that it's not true and that seal hunting doesn't exist. I appeared in the film and directed it, so no one could say that it is old. I filmed the birth of the seals and their two weeks of life before the seal hunt began. I was the first celebrity endorser ever present for a seal hunt. We filmed because the idea was to use the photographs and imagery both as a celebration of life and as a way to shed light on how atrociously we treat this beautiful landscape and lovely animals, and how we turn this pristine white ice into seas of blood. I don't want to tell people what is right or wrong, but rather say 'Look…here it is. You tell me.'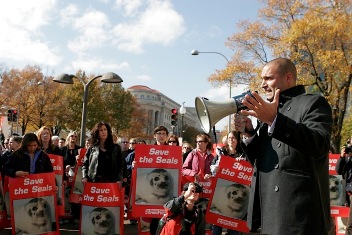 MM: You traveled to Tanzania to film "Generation Free," a documentary about efforts by the Elizabeth Glaser Pediatric Aids Foundation to create a generation free of HIV. Please tell us about your involvement with this organization.
NB: I have been involved with the Elizabeth Glaser Pediatric Aids Foundation for many years and I am also one of their Ambassadors. I have been invited by them several times as a celebrity to take photographs during their Kids for Kids and A Time for Heroes events in New York and Los Angeles. I remember when I attended my first event, I thought there wasn't anybody there who was HIV positive, and I asked 'Is this just an event for celebrities and people who are sponsors?' And then all the people around me said, "I'm actually HIV positive." They were young, healthy looking men and women, single, married, and some with children. I realized the faces of AIDS had changed and that people were giving birth to HIV negative babies even though they were HIV positive themselves. I felt this was something I can talk about.
As a result, we created a film Generation Free. We traveled to interview everyone from politicians in Washington D.C to the First Lady of Tanzania. We talked about not just how much success we've had dealing with HIV and pediatric aids in the United States bringing the number of cases down to fewer than 200 babies a year born HIV positive, but how we need to treat and reduce the numbers of HIV for the rest of the world. There are over 100,000 babies born everyday HIV positive in Sub-Sahara Africa alone.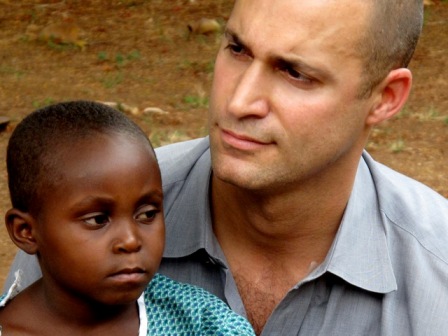 MM: You are the only male Champion for the United Nations Foundation's Girl Up initiative and recently traveled to our nation's capitol – Washington DC, to the Boys and Girls Club for the latest Girl Up Pep Rally. How did you get involved?
NB: Girl Up didn't actually approach me. I approached them. I went to one of their very first inaugural events in New York and I loved their message. I just thought that I would love for my daughter to be a part of an organization where it's all about motivating young girls together as one. They must realize how lucky they are and to become educated on problems in the world and how to solve them. In general, girls have a much harder time in the US as well as third world and developing countries. Only in the last century, women obtained the right to vote in this country as well as the U.K. Girls do need to stand up together in a show of solidarity. After I listened to their entire talk that evening, I suddenly realized that the bulk of my audience at America's Next Top Model is female and I should use this foundation to reach them. Today, I have become an Ambassador of the foundation and have been attending rallies all around the country and learning so much about child poverty, child marriage, abuse and brutality towards minors all around the world.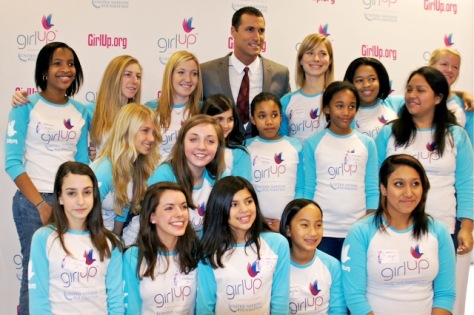 MM: You have two children, Jack and Jasmine with your wife, model Christen Chin Barker. How has philanthropy played a role in their lives?
NB: Well, my wife and I try as often as we can to get them involved. My kids are very aware of what I am doing. The other day, when I was going off to a shoot, my son asked, 'Oh Dada, you are going to grant some wishes today, aren't you?'
My son has also been very interested in my involvement with the Humane Society. I remember one time a year ago, we were driving and my son suddenly declared that he wanted to save the chickens. I asked him, 'Where did that come from?' He said, 'Well, you saved the seals, now I want to save the chickens. Everyone is always eating chickens, and they eat their eggs! It's a hard time! We have to save the chickens!' He currently has a website which we are working on, called AnimalKing.com. The idea is for him (at five years old) to get other children involved in saving animals in any capacity around the world.
MM: Do you believe philanthropy lies within all of us as human beings or is it something that is learned?
NB: I think that it is actually in every one of us. It is often forgotten rather than learned. One of the most wonderful things about a child is that they don't see "pretty" or "ugly" so much, they just see people; they see "nice" and "not nice." A child will go up to someone that is terribly deformed and burned and sit on their lap and let them read them a book and be happy. An adult on the other hand, will shy away or be scared or might become inquisitive in the wrong way. A child will ask, 'Why are you burned?' or 'What has happened?' And they will not be upset or judge you for it. I think this is an intrinsic part of what we are capable of as human beings. We have this love and we have this understanding, but we grow up and we become cynical, judgmental and critical. We often forget to love and forget how to care.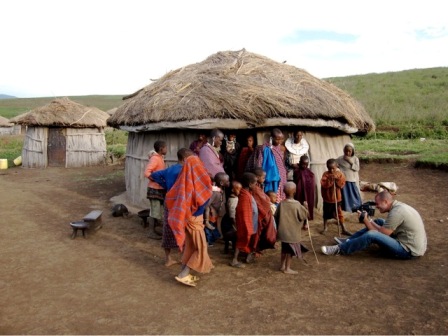 MM: How would you describe yourself in one sentence?
NB: Living the dream.
MM: Humanitarian. What does that mean to you.
NB: It means being "HUMAN." It means being "HUMANE." We are all humans who have a choice whether or not we wish to be humane and live our lives in a respectful manner helping others.
MM: What is your motto? The thought you live by?
NB: My motto is that you want to live with no regrets. That you want to live your life in the best way possible, so that you live it right with no regrets. Then once should be enough.
---
For more information on Nigel Barker visit: www.nigelbarker.tv or www.studionb.com
All photos Courtesy of Nigel Barker